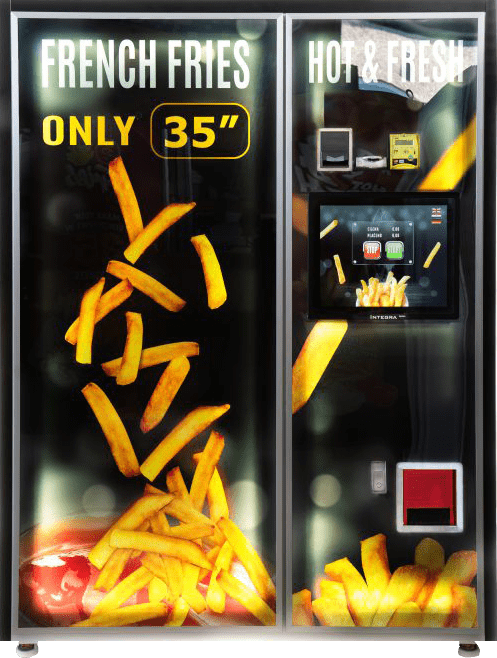 WHY PURCHASE INTEGRA SARATOGA MACHINE?
World class, breaks the record of the frying speed in only 35 seconds.
Professional quality of final product. Superbly prepared, crispy and tasty French fries. Masterpiece of speed and quality. When machine starts to fry you can be sure in quality that lasts and lasts. Quality is measured by the speed of final product and customers satisfaction when consuming final product.
Integra Saratoga key ability lies in the quick delivery time to the customer and smooth and continuous operation without any mechanical intervention. We are offering you possibility of showing our product in your environment in order to show the power and masterpiece for your customers.
Feel the other views of leadership in new dimension of service. World class in your environment.

FASTEST MACHINE
Delicious and crispy fries in only 35 seconds.

ALL TYPES OF FRIES
Saratoga machine produces French fries from any type of frozen potatoes.

FLAWLESS PRODUCTION
Smooth and flawless production of fries without the influence of human in any part of the production. Peak output is 40 portions per hour*

SUPERIOR PROCESSING
Superior processing technology and engineering skills in vending machine.

SMART MACHINE
Our machine is smart, connected to our cloud based services delivers telemetry, managment and more..

ENEREGY EFFICIENT
A++ energy class of freezer

AUTOMATION
Possibility of baking process management, price management, machine process management using any online device using our iVend telemetry system.

FUMES FILTRATION
Machine ductless filtering filtration system removes grease (the grease trap) and other particles and odours through condenser and carbon HEPA filter system that allows installation in confined area. No need for exhaust hood or output.

LARGE VOLUME
The large volume of raw frozen french-fries allows more than 100 servings of 110 grams without refilling.